What is a Bear Market?

A bear market is a market in which prices are falling, and often indicate pessimism on the part of investors about the future of the market. This can often be due to economic recession, high inflation or other negative factors impacting the market. A bear market is typically contrasted with a bull market, in which prices are rising.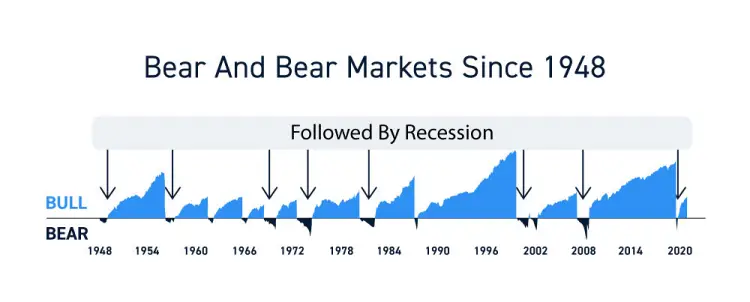 What is a Bear Market? (Definition #2)
A bear market is a market where prices are falling and pessimism is high. The term "bear" comes from the fact that a bear will attack by biting its prey in the fleshy part of its back, delivering a crushing blow. In the financial markets, a bear market is used to describe a situation where prices are falling and investor confidence is low.
Characteristics of a bear market
During a bear market, prices fall and investors sell their holdings. The market falls for a number of reasons, such as fear of losing money, a weakening economy, or rising interest rates due to a quantitative tightening policy (QT). Bear markets are usually accompanied by a recession, which is a period of time when the economy is contracting.
In a bear market, stock prices may fall for years at a time. For example, the S&P 500 fell more than 50% between October 2007 and March 2009. And, it took more than five years for the index to regain its pre-crisis high.
Investors should be aware of the characteristics of a bear market so they can protect their portfolios and avoid losses.
When does a bear market start?
A bear market starts typically when the economy is weak and people are worried about their jobs. The start of a bear market can be difficult to predict, but there are some things that can signal that it's coming.
One sign of a bear market is when stocks fall more than 10% from their peak. This has happened three times in the last 10 years: in 2007, in 2008, and again in 2015.
Some say that a bear market begins when the market falls more than 20%,
While others believe that it starts when indicators like the Dow Jones Industrial Average or S&P 500 cross below their 200-day moving averages.
Another sign is when the economy slows down. The US economy grew by just 1.5% in the first quarter of 2016, which is much slower than the typical growth rate of 3%.
So how will you know when a bear market has started? Unfortunately, there's no easy answer.
How long does a bear market last?
There is no one definitive answer to the question of when a bear market ends. Some say that it is determined by how long the market has been in decline, others look at indicators such as stock prices or volume.
In general, a bear market will end when the fundamentals of the economy have changed sufficiently that investors are confident enough to begin buying stocks again. This could be based on indicators such as GDP growth, unemployment levels, or inflation rates.
It's also important to remember that bear and bull markets don't happen in isolation – they are part of larger cycles that can last for years or even decades. So while there may be signs that a bear market is coming to an end, it's not always possible to say for certain when it will actually happen.
Generally, most people agree that a bear market ends when the market has climbed back more than 20% from its lowest point.
It's also worth noting that bear markets don't typically happen all at once – they tend to develop over time, with smaller drops leading up to the big one. So while it's difficult to say exactly when a bear market starts, we can generally expect it to last until it climbs back at least 20%.
What Causes a Bear Market?
A bear market is a market in which prices are falling and investors are pessimistic about the future.
This can be caused by a number of factors, including:
Economic recession.
Political instability
Over-supply in the market.
In contrast to a bull market, in a bear market many investors sell their stocks, driving prices down even further.
What effects a bear market has on the economy
A bear market can have a ripple effect on the entire economy. When people lose money in the stock market, they often stop spending money on other things. This can lead to businesses having to lay off workers, which will then lead to less money being spent in the economy. This can create a spiral that leads to a recession or even a depression.
How to Protect Yourself in a Bear Market
When the stock market takes a dive, it can be difficult not to panic. While there's no foolproof way to protect yourself from a bear market, there are some things you can do to minimize your losses and keep your head on straight.
The most important thing is to stay calm. Don't make rash decisions or sell stocks when the market is down. Doing so will only compound your losses. Instead, try to rationalize your decisions and figure out what's causing the market to drop. Is it just a temporary blip, or is there something more serious going on?
If you think the latter is true, then it might be time to get out of the stock market altogether.
Related with Bear Markets: