Janet Yellen biography: Yellen, was born in Brooklyn, New York in 1946 and was Ben Bernanke's successor,. She attended Fort Hamilton High School, where she excelled in several subjects. During her school days, she served as editor-in-chief of her school newspaper. She was also the valedictorian of her graduating class in 1963.
Janet Yellen Biography and CV
Janet Yellen, is widely considered to be one of the most influential economists in the world. She has a background in economics and was previously a professor at Berkeley. Yellen has also served as president of the San Francisco Fed and vice chairman of the Board of Governors for the Federal Reserve System breaking the Fed's glass ceiling.
Janet Yellen CV
In 1967, she earned her bachelor's degree in economics from Brown University. She received her Ph.D. from Yale University in 1971. Yellen taught for some time at Harvard University as an assistant professor before working for the Federal Reserve from 1977 to 1978. At that time, she would not have imagined that less than four decades later she would be the first woman to chair the Fed. In her first stint at the Fed, she served as an economist. Yellen moved to the UK in 1978 and became a lecturer at the London School of Economics and Political Science.
In 1980, Yellen became Professor Emeritus of Business Administration at the University of California at Berkeley. She made a return to the Federal Reserve Board of Governors in the mid-1990s. She then served on the White House Council of Economic Advisers from 1997 to 1999.
In 2004, Yellen became president and CEO of the Federal Reserve Bank of San Francisco. It was during this stint that she showed her innate ability to read the developing situation in the market. She was one of the few economists to foresee the housing crisis that would occur in 2008. Six years later, she served as vice chair of the Federal Reserve Board of Governors.
Yellen does not merely have a professional association with the Fed. She also has a personal association with it. In the fall of 1977, Yellen met her future husband – George Akerlof. At the time, both were economists at the Federal Reserve. They wed in June 1978. Today, George is a Nobel Prize-winning economist. Their only child, Robert Akerlof, is currently an economics professor in a university.
Janet Yellen Biography since 2013
Breaking with the Past to Script a New Future
In October 2013, President Obama nominated Yellen as Chair of the Federal Reserve. According to President Obama, qualities that would stand Yellen in good stead were:
Her ability to build a consensus.
Her good judgment.
Her ability to understand the Federal Reserve's dual mandate of increasing employment and creating jobs while creating a sound monetary policy for keeping inflation under control.
Her proven leadership skills.
President Obama believed that Yellen would be able to thrive despite the challenging political environment in Washington. Initially, observers thought that Lawrence Summers was a frontrunner for the position. They felt that President Obama apparently favored Summers – a former Treasury secretary. However, rising opposition led to Summers withdrawing from the race. This left Yellen as the person best equipped to take on the challenging assignment. Her stint as vice chair also helped her win Senate approval.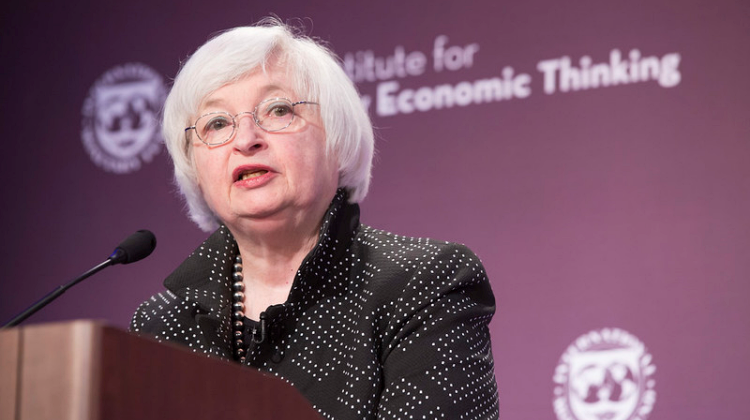 The withdrawal of Summers led to a rejoicing in the money markets. Markets dealing with stocks and bonds relish low interest rates. This is because both move in inverse directions. Thus, low interest rates augur well for housing prices and mortgage demands. They also keep the prices of bonds high. Yellen's takeover implies a continuance with the current policies established by her predecessor. It is no surprise stocks and bond markets will continue to smile broadly for some time.
Interestingly, both Yellen and Bernanke had a brush with history during their stints as chairs at the Federal Reserve. For Bernanke, the challenge lay in ensuring that the horrors of the Great Depression of the 1930's did not materialize in the 21st century.
For Yellen, the Senate's approval made her the first woman to head the Fed since its inception a hundred years ago. It also makes her only the second woman after Elvira Nabiullina of Russia to lead a central bank for a developed nation. In June 2013, Elvira had become the Governor of the Bank of Russia.
The Way Ahead – Challenges and Expectations
Janet Yellen biography focuses on the financial aspect of her work. Not many reflect over the impact of their decisions on people's lives. Yellen, however, thinks differently. She has long championed using the powers of the Federal Reserve for reducing unemployment. To achieve this, she has been more than willing to risk a higher rate of inflation.
In terms of the way ahead, Yellen also declared her intention of boosting economic activity. However, she also faced certain challenges like:
Raising the debt ceiling before the end of February 2014.
Evaluating the spare capacity in the economy in terms of unemployment rates and the output gap.
Ensuring that a strengthening economy does not lead to an increase in market interest rate expectations.
Determining the appropriate time and intensity for raising interest rates.
Restoring the Fed's $4 trillion balance sheet back to the pre-recession figures without creating big losses in the value of its portfolio.
The sixth President of the United States, John Quincy Adams said, "If your actions inspire others to dream more, learn more, do more and become more, you are a leader." By breaking the glass ceiling of a century-old institution, Yellen has reminded women of their ability to succeed in any condition. Her achievement indicates how excellence and determination can turn history on its head.
Being the Fed chairman meant that her decisions influenced thousands of lives. Undoubtedly, people will remember that she broke the Fed's glass ceiling. Whether they appreciate her for the decisions she made is another story.
> Continue reading: Janet Yellen: Breaking the Glass Ceiling as Fed Chair.